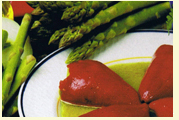 PRECOMAR, S.L., is a young dynamic family owned company set up in 1987 in the heart of Navarra (northern spain), a region with great tradition in the vegetable processing industry.

Our company is dedicated to the production and commercialization of both frozen and preserved high quality pre-cooked meals, among others we fabricate in many different recipes a wide variety of stuffed red roasted 'piquillo' peppers.

Our top quality final product results, and our success in many European markets as well as non European markets is in part due to the high quality raw materials that we use in our fabrication and our traditional methods combined with our modern technical equipment.

We also offer an interesting range of preserved vegetables such as white and green asparagus, artichokes, red 'piquillo' peppers, etc.